Langholm Archive Group Web resource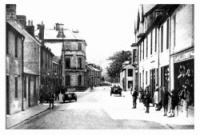 The Langholm Archive Group tries to put as much of their work on the web as possible. By doing this, we hope to make our work available to Langholmites at home and exiles and interested researchers all over the world.
Currently we are compiling an index to the Eskdale and Liddesdale Advertiser. This index is completely searchable online and currently extends from the first edition in 1848 to 1897. You can search for individual names, births, deaths and marriages, for any particular period of time or for references to articles about local events and for local advertisements.
We have recently been given a collection of parish magazines of Langholm Old Church from 1960 to 1973. We are scanning and optical character reading these. As they become available they will be put on the web.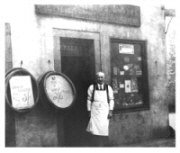 One of the driving forces in the creation of the Langholm Archive Group was the need to preserve the large collection of photographs and information collected by the late George Irving. These photographs have now been scanned in and the information recorded. The results of this work are now available on the web. Many other local people with collections of photographs have also made them available to the Archive Group and as time goes on, these have been added to the online collection. The photographs may be searched by date, subject matter, category and individual names.
There are an assortment of interesting items to be found on our resources page.
The Archive Group has a number of items for sale of interest to those researching family history and those interested in local heritage. These items, which help our funding, can be found on our sales page
The links above will take you to our various resources. Happy hunting.
Note: The Archive Group is not a family history society and does not hold any other records than those you can find on this website. Family history researchers might find it useful to visit the Dumfries and Galloway Family History Society's pages at www.dgfhs.org.uk
The Archive Group may be contacted at enquiries@langholmarchive.com
Donations
If you would like to offer a small donation to help the work of the group, please feel free to do so. We constantly need money for rent, electricity, paper, new equipment and so forth. Cheques can be made out to Langholm Archive Group and sent to Langholm Archive Group, Wauchope Cottage, Langholm, DG13 0AY.
If you would prefer to use Pay Pal to donate on-line, please contact our treasurer at enquiries@langholmarchive.com